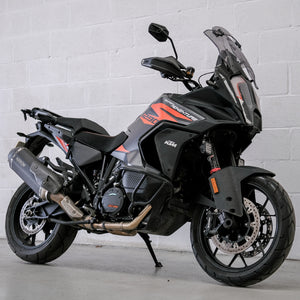 Euro 5 KTM 1290 Super Adventure Remapping - All you need to know!
The Euro 5 KTM Super Adventure is a great bike, however it is quite compromised by emissions regulations and it's true potential is only released after it gets a fully developed remap, so there is plenty to be gained.
In typical KTM fashion, the 1290 Super Adventure has a very snatchy and choppy throttle response, especially low down in the RPM range where you can usually find yourself at when completing slow manoeuvres or when cruising around time. This is due to the poor fuelling at low RPM's, which after our Remap, is massively improved to create a much smoother and pleasant riding experience. You will also notice less hesitation in the throttle when opening it up.
What gains can you expect!
Along with the huge improvement in rideability and throttle response, you will also see a large increase in HP and Torque. At 100% throttle opening, you will see a gain of around 8hp at the back wheel, bringing the total HP to 151, up from 143hp as standard, as well as a gain of 7hp at 75% throttle. However the main gains are found at 25% and 50% throttle where you will see a gain of ___ at 25% and ___ at 50%!

---